ASAP Tickets Canada is travel agency specializing in flights from Canada to the Philippines.  Founded in 2001, we have lots of experience in the industry and are your ultimate partner for international air travel to the Philippines. Our travel agents handle all of the work every time you book a flight with professional assistance before, during and after your trip.
Our expert agents can provide the best flight deals from Canada to the Philippines from the hundreds of airlines we have in our system. Many of our special deals are unavailable online, and are not offered anywhere else, let alone with the same standard of personalized 24/7 customer support.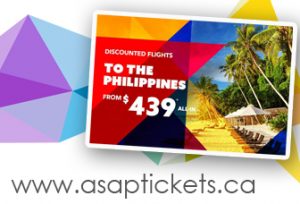 With more than 850 travel agents, we are your number one choice for itineraries from Canada to the Philippines, and any other destination around the world. Because of our ever-evolving business relationships with the most reputable airlines that fly to the Philippines and a range of other travel providers, we have exclusive access to the most competitive airfares to the Philippines and back.
We have agents speaking English, Tagalog, Cebuano, and Spanish, ready and waiting for your call 24/7. They can assist you with group travel, multi-city flights, one-way and round-trip tickets, and concierge services such as hotel bookings, car rentals, and more. For travel to the Philippines you need to look no further than ASAP Tickets.
Call for a free price quote for your flight – 844-225-3355 (24/7, toll-free) or click https://www.asaptickets.com/manila?line=8442253355 to view all deals!
Contact us
If you have any questions related to new reservations,
existing reservations, billing (or any other travel related issues),
please feel free to contact us by phone or e-mail during our regular business hours.
New Reservations
USA/CANADA
INTERNATIONAL NUMBER
GROUP TRAVEL
Economy Class: 888-585-2727
Business & First Class: 800-605-7769
E-mail: info@asaptickets.com
Monday – Sunday: 24/7
INTERNATIONAL NUMBER
Phone: 1-650-263-1714(other lines)
Skype: asaptickets.com (Toll-free all countries)
Monday – Sunday: 24/7
GROUP TRAVEL
Group Travel Desk: 888-333-8644
E-mail: grouptravel@asaptickets.com
Monday – Sunday: 24/7